How much will it cost?
We pride ourselves on our pricing. We can make you a fully hand-made custom suit for $950.00. This of course depends on the choice of fabric and materials you prefer to use, but we definitely have a large section of suitings in the $950.00 range. In fact, all our Super 100, 110, 120 and 130 suitings in stock are $950. However as you can expect, if you are looking for a 100% cashmere fabric bred by goats from the royal family, prices may vary in a range much higher. With that said, here is a quick look at the general range of prices for products we offer:
Suits (stock fabric) $950
Sport Jackets $850 to $950
Trousers $250 to $350
Tuxedos start at $1050
Overcoats $1250 to $2500
This is my first time getting a custom suit where do I start?
When you come in for your first visit we will walk you through the process of picking the perfect custom suit. It's important to understand for what purpose you will be using the suit. Then we'll determine the best combination of style and fabric. If this is your first suit you will most likely opt for a navy blue or charcoal grey single breasted two button suit. This is regarded as the modern man's "go to" suit because it's suitable for all occasions and settings and is very easily accessorized. Coincidentally, Mr. Ned is well stocked with many navy blue and charcoal grey fabrics. In fact, we're stocked with hundreds of fabrics to choose from, but that's probably best left for another question.
What is the process from start to finish?
The first step is to come see us at 137 Fifth Avenue. We'll take you through our fabrics and talk about what you want to get out of the suit. If you're using it for work or play, travel or ceremony, we'll make sure that you are well suited for any intention. During the first visit, you'll decide what fabric and lining you want, the style, and the type of fit. Then we take your measurements and you're all set until the next visit.
Upon your second visit, we will have a basted canvas jacket fitting. It's the unfinished outer shell of a jacket, all the nuts and bolts are there for us to tailor the correct amount of cloth to your body. We do a fitting at this stage to give the jacket the best look in the chest, shoulder, and waist.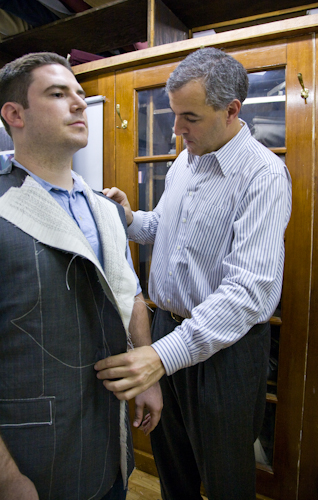 Your third visit is where the real magic begins to happen. You'll see how well the jacket fits your shoulders and how it lays flat on your back. If final adjustments are to be made, they are usually minor. The trouser will be in a finished state and ready for you to complete your look. A hem is marked and the waist and seat are checked for fit. At this point, we will also schedule delivery or pickup. It's that easy!
How long does it take to make a custom suit?
Generally speaking, on average it takes six weeks from start to finish. This accommodates for clients that can not come in immediately between fitting. Please do not quote me on this, however, as some seasons are busier than others. But yes, we could definitely have a completed custom suit ready for you within six weeks.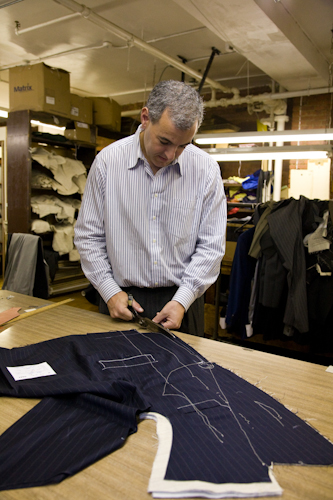 What does Super 100 mean and what is the difference between 100 and 120?
Good question! A lot of people are misinformed when it comes to this. This is the scale that denotes the quality of wool, not the weight. The higher the number, the more threads per square inch. However, it is not always best to choose the highest number because as the Super number gets higher, the wool fibers get finer and can become more prone to being too shiny, developing wrinkles and being a lot less durable. This can all vary, which is why it is best to see and feel the fabrics for yourself.
What fabrics do have available?
We have a wide selection of fabrics available from 3 season to summer and winter weights. We stock wool, cotton, cashmere, wool-cashmere, linen, corduroy and tweed from Loro Piana, Vitale Barberis and Holland & Sherry.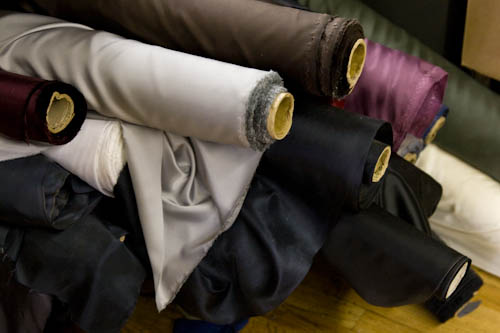 Do you make any other garments?
We sure do! We make overcoats, sport jackets, custom trousers and tuxedos. If you have something else special in mind, please contact us and we'll be happy to discuss it. However, please note that we do not make custom shirts.
Do you have Gift Certificates available?
Yes we do. Please call for more information.